Press Release Archive
THE GOD SHOW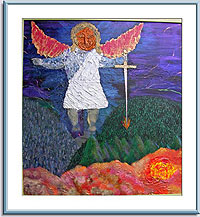 PRESS RELEASE

Gallery Project
215 South Fourth Avenue
Ann Arbor, MI 48104
http://www.thegalleryproject.com, 734-997-7012
Contact: (734) 668-6507 or jejacobs@comcast.net (Judith Jacobs)
Dates: September 7 through October 9, 2005
Hours: Tuesday through Saturday, noon-9 pm; Sunday, noon-4:00 pm
Opening Reception: Friday, September 9, 6-9:00 pm.

"THE GOD SHOW" AT GALLERY PROJECT
August 3, 2005 - American culture today is consumed by notions of the deity. We rarely speak of fundamental values, morality, or truth without reference to a supreme being. There is significant competition among religious and societal groups to capture the deity, shaping the concept to express their own beliefs. Some contemporary artists express their spirituality in their art, while others comment on God as part of cultural narrative, use religious symbols and icons as devices, and explore notions of beauty and the sublime. Perhaps the greatest contribution of artists is to restore to the deity a sense of mystery. This requires personal courage to venture into the unknown and the openness to consider cross-cultural and historical perspectives.

Rocco De Pietro and Gloria Pritschet, collaborators in Gallery Project, will curate "The God Show."

Twenty four artists are participating in the exhibit. They include: Vijay Kumar and Willem Vandooijeweert of New York City; Rebekah Scotland of Syracuse, New York; Joel Pelletier of Los Angeles; Joelle Spencer-Gilchrist of Columbus; Ed Fraga, Dick Goody, Adrian Hatfield, Jack Johnson, and Renata Palubinskas of the Detroit area; Silvia Lucas of Battle Creek; Marsha Wright of Brighton; and Armin Mersmann of Midland. Ann Arbor artists include: Rocco De Pietro, John Gutoskey, Warren Hecht, Keeli McCarthy, Monte, Gloria Pritschet, Mike Sivak, Brad Smith, Elona Van Gent, and Soma Wingelaar.