Press Release Archive
IMAGE + OBJECT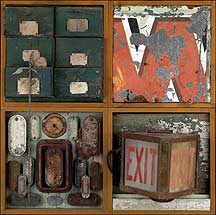 PRESS RELEASE

Gallery Project
215 South Fourth Avenue
Ann Arbor, MI 48104
http://www.thegalleryproject.com, 734-997-7012
Contact: (734) 668-6507 or jejacobs@comcast.net (Judith Jacobs)

Dates: October 14-November 23, 2005
Hours: Tuesday through Saturday, noon-9 pm; Sunday, noon-4:00 pm
Opening Reception: Friday, October 14, 6-9 pm

"IMAGE + OBJECT" EXPLORES THE ART OF ASSEMBLAGE AT GALLERY PROJECT
September 4, 2005 - In its fifth exhibition since opening in April of 2005, Gallery Project presents Image + Object, an exploration of the narratives, rituals, visual metaphor and imagery, and imaginary spaces, constructed from the flotsam and jetsam of our worlds through the art of assemblage.

Working with materials culled from flea markets and junk stores or altered by new digital technologies, the scavenger art of assemblage evokes curiosity and wonder with its unique capacity to frame, overlay, and juxtapose imagery.

Presented in this exhibition is the work of Paul Andrews, John Gutoskey, Scott Hocking, Frank Pahl, Clinton Snider, Graceann Warn, and John Whipple. Andrews, Gutoskey, and Warn combine found objects with digitally altered and enhanced images to create new meaning in enigmatic space. Pahl employs electronic technology to make music machines and multi-media sound installations from old toys, doorbells, and an array of found instruments. Whipple's distressed wooden busts wear cast-off leather accessories and zippered mouths. Hocking and Snider, in their Relics series, assemble 20th century industrial and urban detritus into eloquent reliquaries of Detroit's changing history.

Frank Pahl, also a prolific composer and musician, will perform at the opening reception.
Image: "Relics," mixed-media assemblage by Scott Hocking and Clinton Snider